On our homepage we listed the full list of hotels in Pattaya that are guest friendly. As you can see, the list is quite extensive, and very detailed. Here we wanted to list you the the top 3 hotels in the low, medium, and high budget categories.
This is a special selected list from one of our editors and contributors on the the topic. It was also interesting for us to see what hotels were picked, as with so many great hotels, it can be difficult to pick only one.
Here are our recommendations for the best guest friendly hotel in the three budget categories.
1. Walking Street Guest House [1-star]
In the low budget category we have the Walking Street Guest House coming in at #1. It really is hard to beat the value that this hotel has. With excellent ratings, super friendly staff, and a location that is hard to beat, this hotel is the top in its class. The prices are also very affordable, especially during flash sales online.
August Suites [3-star]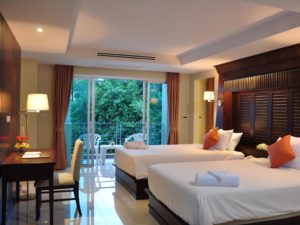 In the medium budget category, August Suites was the preferred guest friendly hotel. This hotel is easily one of the best hotels in all of Pattaya, for any budget level.
The rooms are superb, extremely clean, large, and a huge bed. The location is also very hard to beat. The facilities are amazing, and it has one of the best outdoor pools in the city for this price range. The prices are also very reasonable for this quality of hotel, and it is usually under $50 USD for most times of the year. A well deserved hotel to be on this list
3.Hilton Pattaya [5-star]
In the high budget category, we have the prestigious Hilton Pattaya coming in at #1. It really is well deserved, this hotel offers some amazing luxury, at prices that are reasonably affordable for international standards. As expected, the rooms are stunning, and the infinity style rooftop pool is also one of the best in all of Pattaya. The location can't be better, it is right on Pattaya Beach Road. To top things off, it is also guest friendly. The Hilton Pattaya is our pick of the best hotel in Pattaya.
Conclusion
So there you have it, the top 3 selected guest friendly hotels in Pattaya for the 3 budget ranges. Are there other hotels that could compete with the hotels we selected? maybe, yes, but these three hotels in this list are definitely the top in their categories, and it will hard to surpass the the value that they have in their respected budget categories.
Read our blog for more articles.